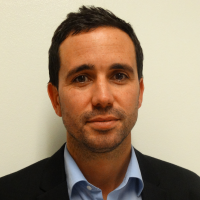 Renewable energy, circular economy and mitigation/adaptation to climate change specialist, who is convinced that tackling these major challenges requires continuous innovation in business models, financing structures and new technologies. At a corporate level, Cristián has been linked with a wide range of power generation projects, from its technical conceptualization, economical assessment and operation. He has developed several CO2 reduction projects and led teams for designing and implementing innovation strategies, focused on enhancing and optimizing the business value, while integrating the industrial development with socio-environmental requirements.
He has actively participated of the local and regional debate regarding the development of a low-carbon future, is strategic councilor of ATAMOS-TEC (applied R&D center focused on solar photovoltaic systems), technical assessor of "Science Based Targets Initiative", from the WWF, CDP, World Resource Institute and UN Global Compact, and member of the Sustainability and Climate Change Committee of the "Production and Trade Confederation" (CPC, by its Spanish acronym).
Cristián holds a Bachellor and a Master degree on Engineering Science from the Pontificia Universidad Católica of Chile, and is a graduate student from the Executive Program at Singularity University in San Francisco.